Mr L supported us with 8 tickets

Mr L supported us with 6 tickets

Ms G supported us with 1 ticket

Mr B supported us with 5 tickets

Ms F supported us with 1 ticket

Ms R supported us with 2 tickets
---
1d 8h 13m

21 May 2022
---
Winner! Mrs T (BRACKNELL)

Won 3 extra tickets!

Winner! Mrs B (BRACKNELL)

Won 3 extra tickets!

Winner! Miss S (BRACKNELL)

Won 3 extra tickets!

Winner! Mrs G (Bracknell)

Won 3 extra tickets!
About us
Welcome to our Lottery page.
The Crowthorne Symphony Orchestra is an accomplished amateur orchestra operating in the Bracknell and Crowthorne area, which performs a broad repertoire of classical music at 4 concerts staged annually, including one at Christmas.
We are usually accompanied at each concert by a promising and talented young soloist from the reputable music colleges, to whom we give a platform to perform as they start on their professional musical careers.
Concerts are open to the general public. Mindful that music plays an important part in the lives of many older people and can also be very beneficial for those with dementia, we support local users of the Crowthorne Community Minibus by offering them tickets to our concerts at a reduced price.
We also aim to encourage children to discover the thrill of listening to live classical music by offering free concert tickets to those under 16. Our annual Family Christmas Concert is particularly aimed at involving children in listening to and participating in making music. Depending on the programme, we also occasionally invite smaller children with parents to attend our concert-day afternoon rehearsals free of charge so they too can have a classical music experience but in an informal setting.
To find out more about the Orchestra and our concert programmes, visit our website at www.crowthorneorchestra.com.
We need your help so that we can continue to bring a high standard of classical music to the borough. Please enrol today to support your local orchestra.
Thank you for your interest, and good luck!
Yours sincerely
Martin Leech
Chairman
Help us share our cause on social media
How the lottery works
That's right, unlike many other lotteries, our lottery tickets are only £1 per week.
50% to your chosen cause and 10% to other causes in Bracknell Forest.
Match all 6 numbers and you win the JACKPOT!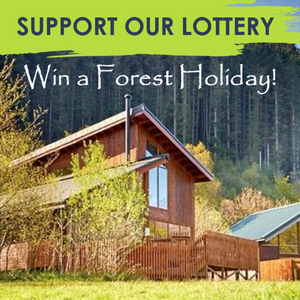 Win A £1000 Forest Holiday
Ever want to get away from it all? Well here's your chance - get your tickets before 25th June for your chance to win a fabulous Forest Holiday to the value of £1000! Choose from 12 different locations throughout the UK.