Miss E supported us with 2 tickets

Mx R supported us with 2 tickets

Mrs M supported us with 1 ticket

Ms H supported us with 1 ticket

Ms H supported us with 1 ticket

Ms H supported us with 1 ticket
---
1d 8h 38m

21 May 2022
---
Winner! Mrs T (BRACKNELL)

Won 3 extra tickets!

Winner! Mrs B (BRACKNELL)

Won 3 extra tickets!

Winner! Miss S (BRACKNELL)

Won 3 extra tickets!

Winner! Mrs G (Bracknell)

Won 3 extra tickets!
About us
There are many homeless people in Bracknell sleeping rough on the streets at night. The Pilgrim Hearts Trust opens a night shelter in the town for the homeless during the four coldest months of the Winter (December to March). Last year we helped a total of 95 homeless men and women: this year we expect more. We give them a safe, warm bed for the night, a hot evening meal and breakfast. We also help them find employment, training and a permanent home to meet thier individual needs.
We believe in lifting people out of poverty, not just giving them handouts, so we do more for them than just give them a meal and a bed. We also run a twice weekly drop-in centre in Priestwood all year round so they can get advice and help to ensure that they no longer have to sleep on the streets of Bracknell.
We need your help so Pilgrim Hearts Trust can continue to offer our service.
Thank you for your support and good luck!
Yours sincerely,
Elaine Chalmers-Brown, Director. Pilgrim Hearts Trust
Help us share our cause on social media
How the lottery works
That's right, unlike many other lotteries, our lottery tickets are only £1 per week.
50% to your chosen cause and 10% to other causes in Bracknell Forest.
Match all 6 numbers and you win the JACKPOT!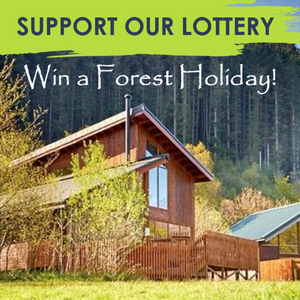 Win A £1000 Forest Holiday
Ever want to get away from it all? Well here's your chance - get your tickets before 25th June for your chance to win a fabulous Forest Holiday to the value of £1000! Choose from 12 different locations throughout the UK.